PARKS & RECREATION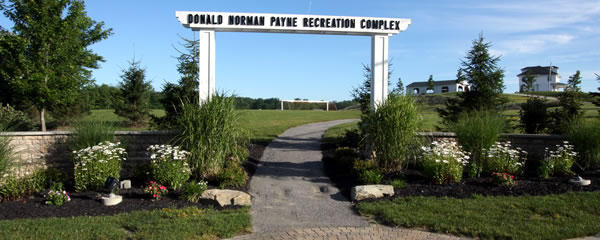 DONALD NORMAN PAYNE RECREATION COMPLEX
The Donald Norman Payne Recreation Complex, located at the northwest corner of Austin Powder Drive and Pettibone Road. The Recreation Complex is approximately 15 acres in size and was developed as part of the Village of Glenwillow's agreement with the landfill operator now doing business as Republic Waste. The Complex includes 3 soccer fields, A ball diamond, parking, pavilion, restrooms, concession stand for public activities, playground and the largest of the former Austin Powder Company homes. There is additional vacant land to the west of the complex, across Tinkers Creek, which is currently being considered for possible future privately-owned recreation uses. The Donald Norman Payne Recreation Complex is open from Sunrise to Sunset.
GLENWILLOW COMMUNITY PARK Glenwillow Community Park on the south side of Pettibone Road west of Pinecrest Lane. The Community Park, approximately 38 acres in size, was purchased in 1981 with the assistance of Cuyahoga County Community Development funds. The park is mostly undeveloped with the exception of a parking lot and picnic shelter. The Community Park is open from Sunrise to Sunset.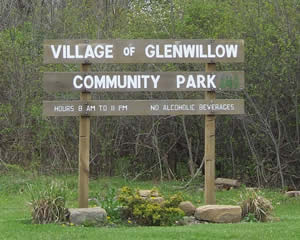 JOHN D. BROWN MULTI-PURPOSE TRAIL
On March 17, 2010, Village Council named the Pettibone Road Multi-Purpose Trail the "John D. Brown Multi-Purpose Trail" in honor of his commitment and service to the Village over 35 years as Law Director. This trail, on the north side of Pettibone from Austin Powder Drive to Richmond Road was constructed in 2008/2009 with funds from Ohio Dept. of Natural Resources, Community Development Block Grant awarded by Cuyahoga County Board of Commissioners and the Village of Glenwillow. The trail is 10 feet wide and constructed with asphalt surface. It is extensively used by residents walking, riding bikes, and jogging. The trail connects with the trail system in Oakwood Village and the Cleveland Metroparks.
John D. Brown provided excellent legal counsel to the Village of Glenwillow over his 35 years of services. John's expertise in not only municipal law but environmental law and public finance, enabling Glenwillow to grow into a vibrant residential and commercial/industrial Village. His contribution to the Village as Law Director can be seen everywhere as you visit the Village. John retired from the Village of Glenwillow in 2010.
GLENWILLOW VILLAGE CENTER
Glenwillow Village Center built in 2005, serves as a central gathering place for residents and community life. It is an example of the preservation of the Village's heritage, while establishing the Village's distinctive identity. This development was able to preserve the history of the Village while creating structures for viable use as residential and commercial units. This development is an excellent example of a private-public partnership. The Village teamed with Whitlatch & Company in Twinsburg, Ohio, to retain the uniqueness of the old "company town" while renovating the existing structures and building new units that fit with the popular demand of housing today. This project had four components, Retail including a Restaurant, New Residential Units, and Renovated Residential and Professional Homes.
RETAIL WITH A RESTAURANT
The old company town had a school, church, farm, company store and houses for its workers. Drawing from the remnants of Austin Powder's past, the "company" houses along Pettibone Road has been renovated to create quaint retail spaces. The current occupants of these spaces are destination shops that serve a unique purpose to its customers.
The existing "company" store has been expanded to become a tavern and casual restaurant with an outdoor dining area. Careful attention has been taken to ensure similar architectural elements to those of the shops with multi-paned windows and an expansive front porch. The Glenwillow Grille opened in 2005 as a popular restaurant that satisfied the tastes of its customers. Patrons will fine a wide variety of menu items, expansive wine and beer list and many activities in the Grille such as live bands, wine tasting and dinner specials.
NEW RESIDENTIAL
New homes have been developed in northern portion of Glenwillow Village Center as an attractive, neo-traditional village neighborhood, which will include 50 new Western Reserve-style homes. Each classically designed home has been complemented with a beautifully wooded backdrop, a view overlooking scenic Tinker's Creek, or a site adjacent to the community recreation field. Each home is professionally landscaped and the streetscape includes sidewalks and period streetlights. This neighborhood designs encourages walking, getting to know your neighbours and a friendly community environment.
PROFESSIONAL OFFICES
Glenwillow VIllage Center has six renovated and expanded historic homes along Austin Powder Drive. While maintaining their architectural character, the homes have been converted into business and professional offices designed to meet the needs of today's small business and professional service providers. The occupants of these units range from personal services to computer business to architectural professional.
HISTORIC HOMES
Six "company" houses along the Austin Powder Drive have been fully renovated and updated into modern homes. The exteriors have been renovated to match their historic architectural character and new, two-car attached garages have been added to each home. The renovation was completed with new baths, kitchens, windows and doors.
AVERY LAKE
Part of the Glenwillow Center Development included a Village Park with the creation of a lake, named Avery Lake, after the first mayor of Glenwillow, Mr. Orrin Avery. The Park includes walking trails from Austin Powder Drive east around the lake to the Shops and Glenwillow Grille on Pettibone Road. In front of the lake is modern gazebo which serves as an entertainment venue for community concerts, gatherings and art shows.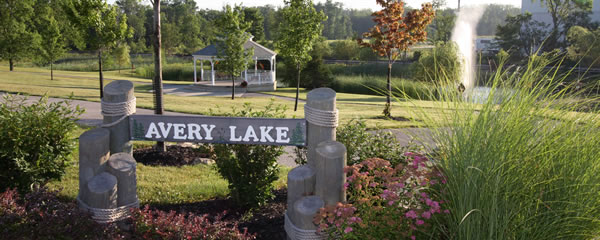 SOLON REC CENTER
Residents of Glenwillow are able to join and participate in all activities at the Solon Recreation Center. Solon offers a full range of activities for all ages. For detailed information on programs, classes and fees, please go to their website at: www.solonohio.org
METROPARKS
The Cleveland Metroparks offers a wide variety of activities and programs including trails, golf courses, parks and the renowned Cleveland Zoo. They also have 5 nature centers with a range of programs and educational opportunities.
Cleveland Metroparks Reservations are open from 6 a.m. to 11 p.m. daily.
Nature centers are open 9:30 a.m. - 5 p.m. daily and CanalWay Center is open 9 a.m. to 5 p.m. daily. Some outdoor education facilities offer additional summer and holiday hours.
EarthWords Nature Shops are open Wednesday - Saturday 10 a.m. to 4:45 p.m. and Sunday noon - 4:45 p.m. During the summer, EarthWords is open daily 10 a.m. to 4:45 p.m.
For additional information about the Cleveland Metroparks, go to their website at: www.clemetparks.com