LETTER FROM THE MAYOR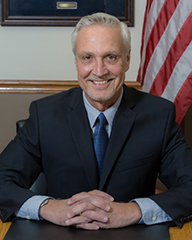 Mayor Mark A. Cegelka mcegelka@glenwillow-oh.gov
On behalf of the Village of Glenwillow, welcome! As Mayor of our Village, I would love the opportunity to tell you about our community and its amenities. Glenwillow is a small, quaint village that has much to offer its residents and businesses. It is a great place to raise a family. Glenwillow offers the advantages of a small town while having all the services found in larger communities.
Glenwillow has a rich history starting in the 1800's with the development of the Austin Powder Company. The Village was a "company town" serving all the needs of its residents up through the 1970's, when the company moved to southern Ohio. Even though the Austin Powder Company no longer operates in the Village, the heritage is still here.
We are proud of our residential, commercial and industrial areas. The residential areas offer housing for people of different needs and tastes. The commercial and industrial areas offer us a strong tax base with excellent corporate partners. The Village has two parks, several multi-purpose trails, various recreational activities as well as services to improve quality of life such as recycling, free trash service, and vacation house checks.
We are proud to be part of the Solon School system who offers our children an excellent public education at all educational levels. The entire Solon School System strives for academic excellence to make our children the best they can be in all their programs.
Glenwillow is a contemporary community with old fashion values. I encourage you to learn more about us to see if you can call us home too!
Mark Cegelka, Mayor