FINANCE
DIRECTOR OF FINANCE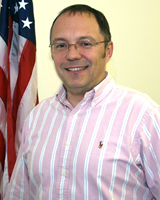 John Veres, CPA
Finance Director
The Finance Department is under the direction of John M. Veres, CPA. John has worked in the financial industry for over 25 years after earning his bachelor's degree from John Carroll. He also earned his Certified Public Accountant (CPA) designation. His experience ranges from a Senior Public Accountant to an elected Finance Director specializing in tax incentive programs such as Tax Increment Financing and Community Reinvestment Area Programs. John has also earned his Certified Public Finance Administration designation in 2003 and completed the Elected Officers training in 2001 from Kent State University Center for Public Administration and Public Policy.
The Finance Department is responsible for all financial business of the Village. The department is responsible for the annual budget, accounts payable, accounts receivable, preparing and conducting business in accordance with generally acceptable accounting standards for local governments and the State of Ohio laws. The Village is audited on an annual basis by the State Auditor's office. A copy of the latest audit report is available for public inspection.
The Finance Department also manages all the Human Resource functions of the Village as well as bi-weekly payroll. Currently, the Department consists of three part-time clerks, Laurel Samsonas, Maggie Osysko and LeeAnne Meda.
Please contact the Finance Department staff about any financial matters of the Village.
ECONOMIC DEVELOPMENT DIRECTOR
Jeremy Rowan
Economic Development Director
Jeremy Rowan is serving as the Village's Economic Development Director. He has over 15 years experience in the public and private sectors. His expertise is in land use and economic development planning along with site selection, incentive negotiation, community communication and grant writing.  He has earned many economic develpment and planning certifications.
TAX INCENTIVE REVIEW COUNCIL
The Ohio Revised Code requires that any community that grants a business a tax incentive for exemptions from real or personal property taxes must conduct an annual review of the agreement. The community must ascertain if the business has met its obligation under the approved agreement. The Ohio Revised Code determines who must provide this annual review. The Tax Incentive Review Council (TIRC) meets annually and reviews each agreement for the number of actual employees hired or retained by a business and the amount of investment in capital expenditures the business made. If a business has not been able to meet its obligation outlined in the agreement, the TIRC will make a recommendation to Village Council to consider amending or canceling the tax incentive. Copies of the annual report made by the TIRC on each agreement is sent to the Ohio Department of Development in Columbus for review and monitoring.
In Glenwillow, the Tax Incentive Review Council is composed of the following members:
Mark A. Cegelka – Mayor of Glenwillow
John M. Veres, CPA – Finance Director
– Solon School District Superintendent
– Cuyahoga County Representative from the Auditor;s Office
Don Banas – Councilman
Don Banas- Resident
Jeff Adie – Resident
REGIONAL INCOME TAX AGENCY
The Village of Glenwillow contracts with the Regional Income Tax Agency to do its income tax collection. People who work in the village are subject to a 2% income tax. Residents who work outside the Village receive a 100% credit for paying taxes to another community. Employers are required to take out the tax from individuals gross payroll and send it to the RITA.
RITA is located in Brecksville and collects incomes taxes for 173 municipalities in Ohio. RITA is governed by a board of nine trustees elected by the Regional Council of Governments. RITA offers assistance to residents, employees who work in the Village and employers.
Most forms required by the Regional Income Tax Authority, can be found on their website at: www.ritaohio.com RITA also offers e-filing for your convenience. Refer to their website for more details.
The Cleveland Area Office of RITA is:
Regional Income Tax Agency
10107 Brecksville Road
Brecksville, OH 44141
Their hours are: 8:00 am to 5:00 pm Monday through Friday.
No appointment is necessary.
To reach RITA by phone:
Toll Free: 800-860-7482
TDD: 440-526-5332
Voice: 440-526-0900
Fax: 440-526-8813